Walking the South Downs Way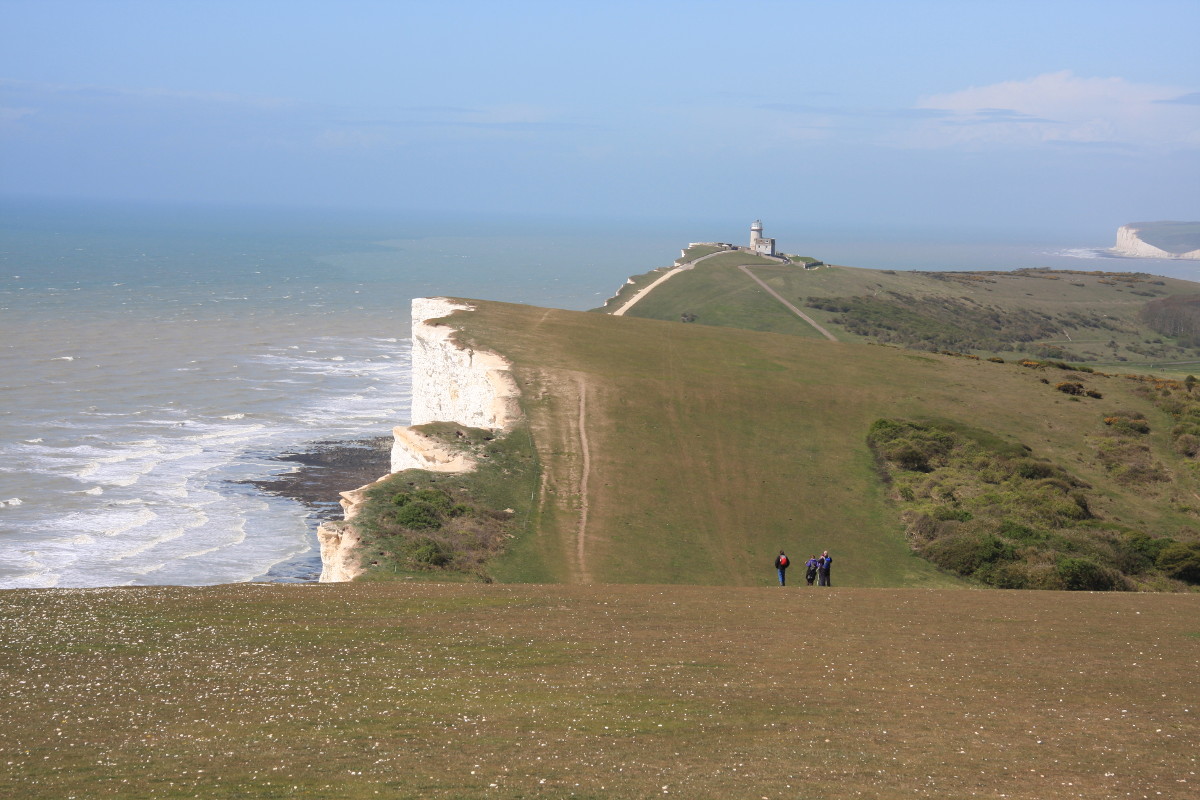 Back in 2013, we (Martin, Jill, Colin and Ann) completed our walk of the full length of the South Downs Way. We did this over a total of five weekends, in a somewhat erratic order, and not always walking in the same direction. On each weekend we used rail travel to get there and back, leaving our cars at home, and we carried with us the minimum necessary for an overnight stay in a pub or B&B.
Rail Connections and Overnight Stops
The diagram below shows the rail connections that make the SDW walk possible, the overnight stops we used and some cafe's and pubs along the way. I'm writing up this Blog in the hope that others will find the map and other tips in this post useful.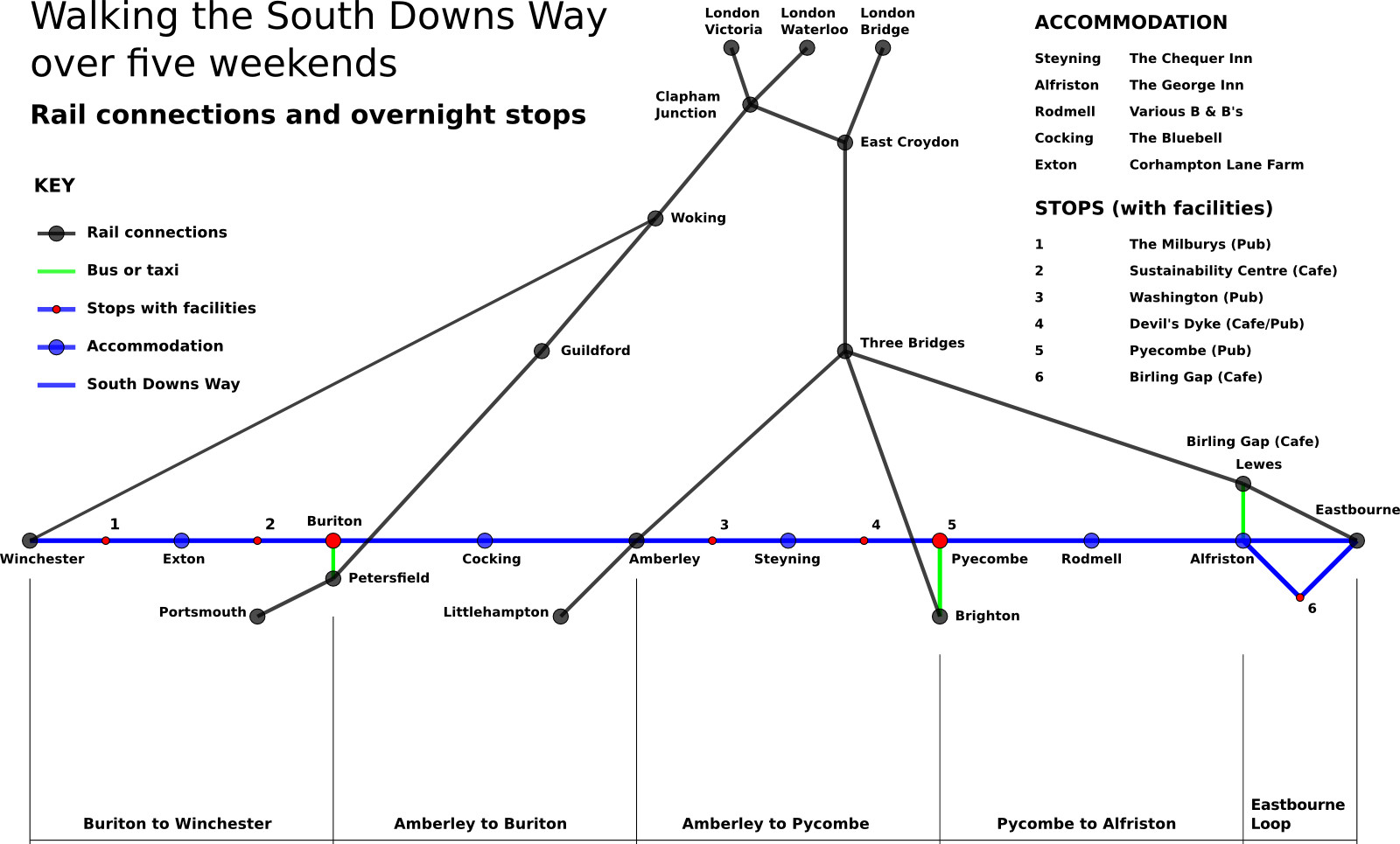 Rail connections and overnight stops
Itinerary
Each weekend we walked about twenty-five miles – the South Downs way is 100 miles, the Eastbourne Loop adds 15 miles and then there were a few more getting on and off the walk.
Amberley to Pyecombe 20-21 May 2011
Day 1 20 May 2011 Amberley to Steyning
On the first day we caught the train to Amberley and walked to Steyning, staying overnight and eating at the The Chequer Inn.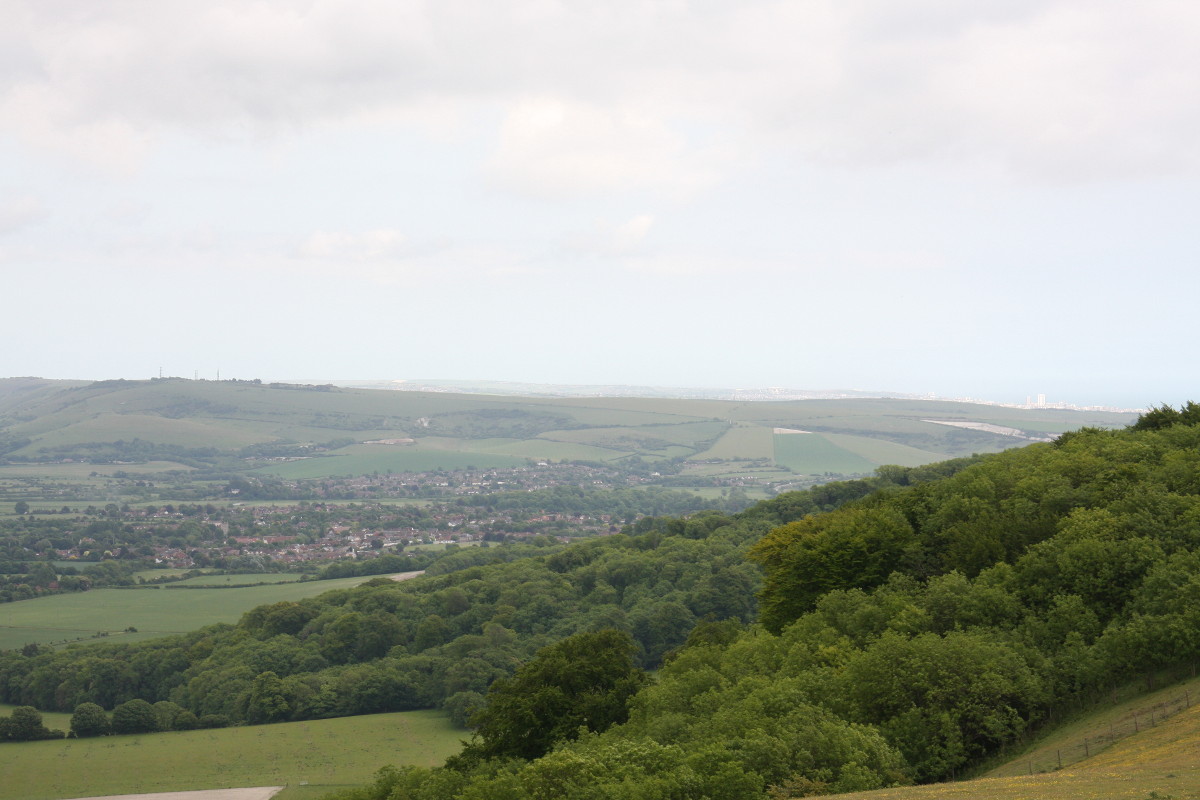 Day 2 21 May 2011 Steyning to Pyecombe
On the second day we continued from Steyning via Devil's Dyke to Pyecombe, where we caught a bus down to Brighton and ate fish and chips on the beach, before travelling home from Brighton by train.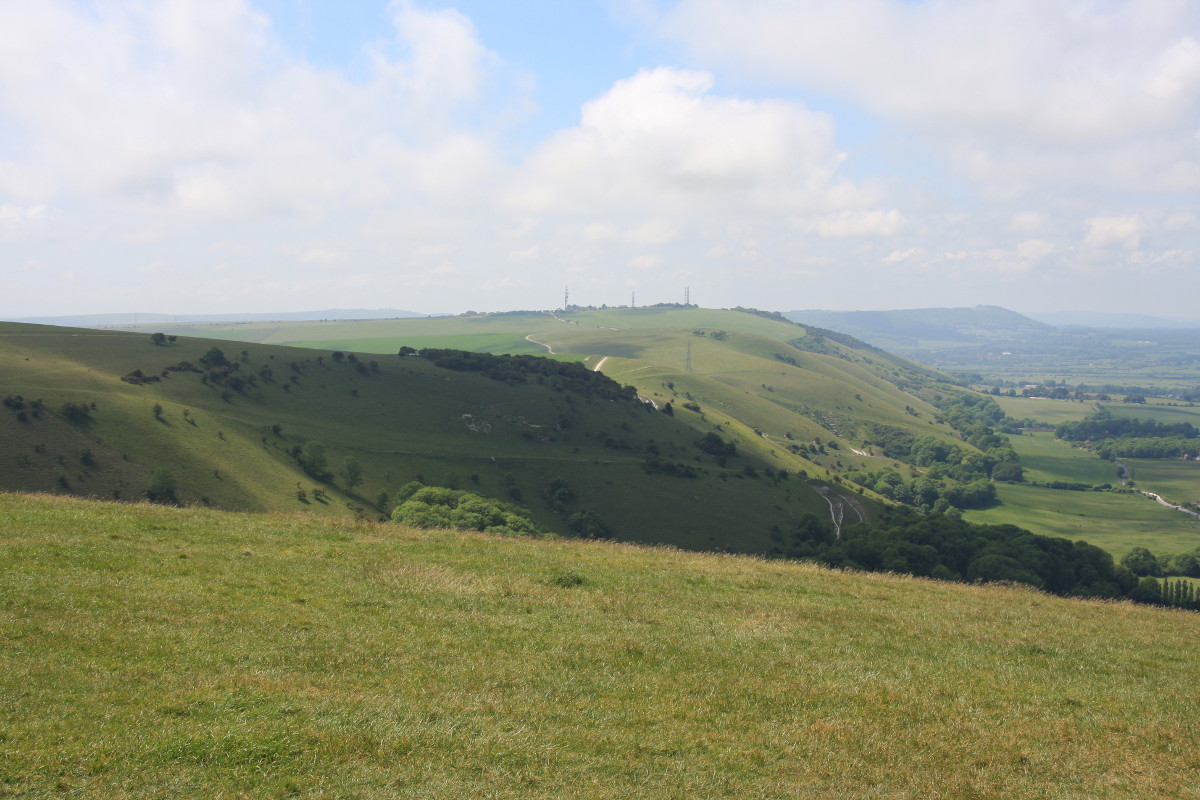 View west from Devil's Dyke towards Fulking Hill
Eastbourne Loop 27-28 April 2012
Day 3 27 April 2012 Eastbourne to Alfriston
Joined this time by Stephen and Jill, we caught the train to Eastbourne and on the first day walked westwards across the town and then climbed Beachy Head, continuing along the Seven Sisters and up the Cuckmere River Valley to Alfriston.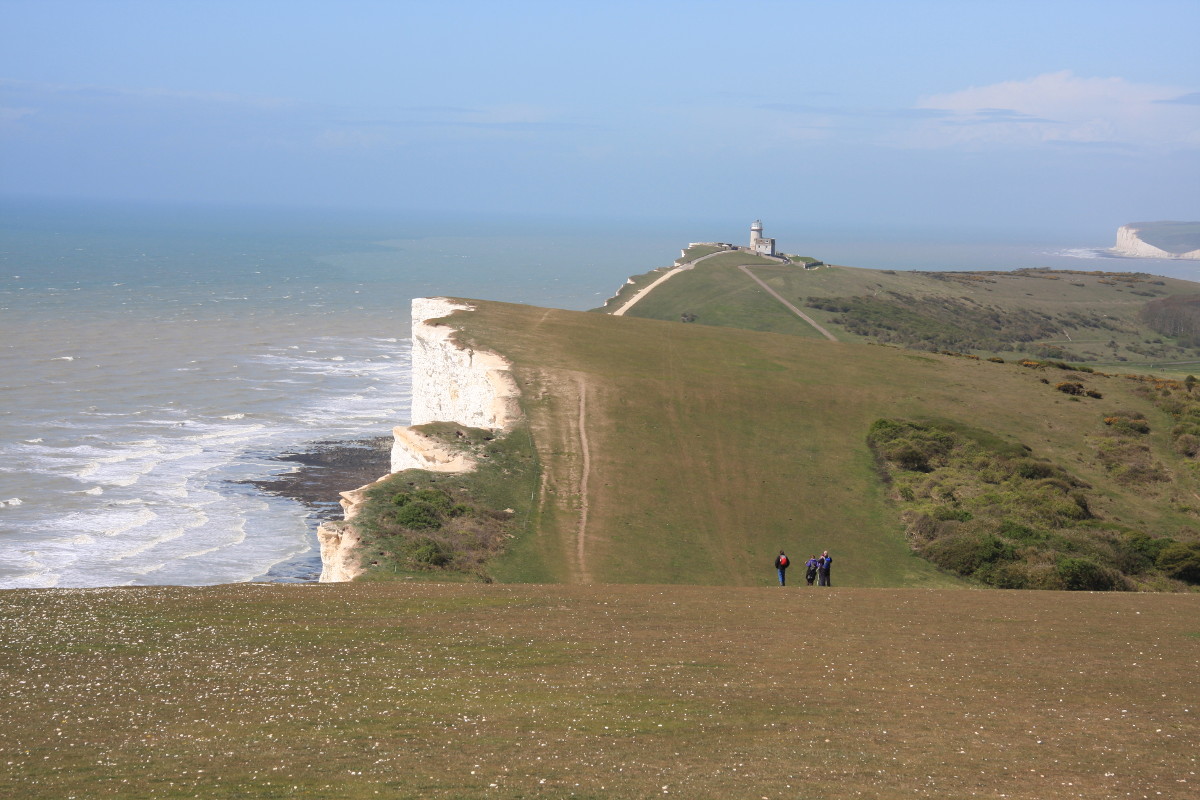 Seven Sisters
Day 4 28 April 2012 Alfriston to Eastbourne
We had stayed overnight at The George Inn in Alfriston. Huge breakfast!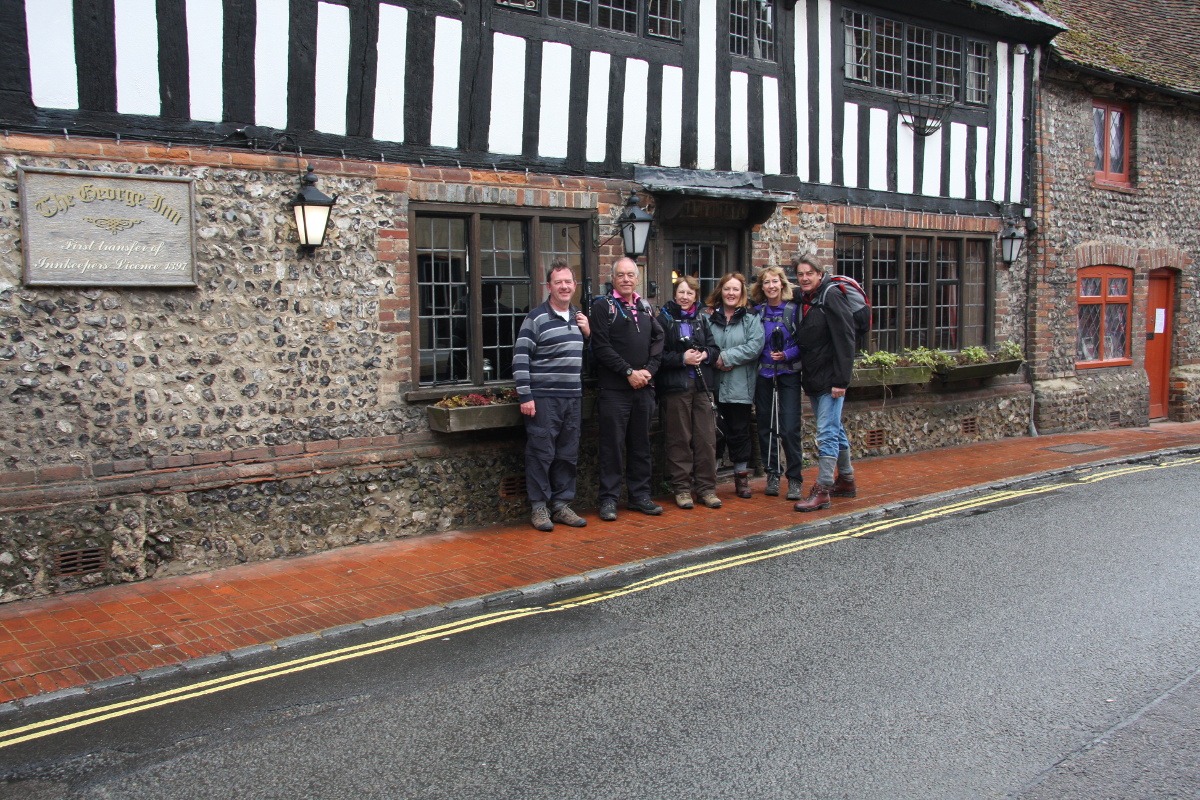 The George Inn Alfriston
Unfortunately it rained this day – but we can't complain because it was perfect weather on all of the other nine days! We ended up in a fish and chip cafe in Eastbourne before catching the train home.
Pyecombe to Alfriston 21-22 July 2012
Day 5 21 July 2012 Pyecombe to Rodmell
In order to rejoin the South Downs Way, we caught the train to Brighton and then a taxi ride to the start point at Pyecombe.
We had to split up for our overnight stop in Rodmell because of limited accommodation. Supper was at the Abergavenny Arms in the village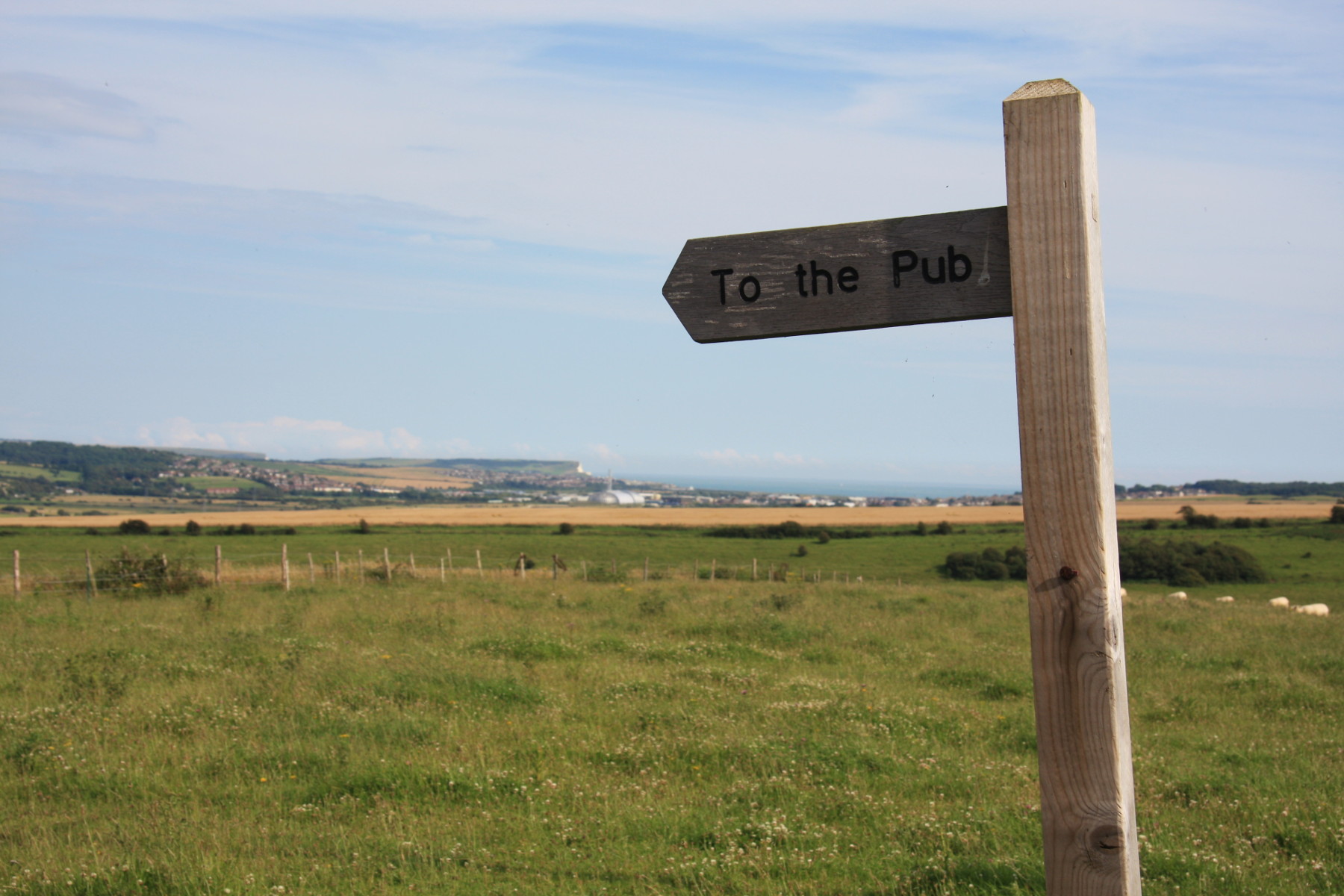 To the Pub
Day 6 22 July 2012 Rodmell to Alfriston
On Day 6 we walked for part of the day with a young lady trekking home from university, before eventually arriving back in Alfriston (our overnight stop on the Eastbourne Loop) from where we took a taxi to Lewes and had some supper before catching the train home.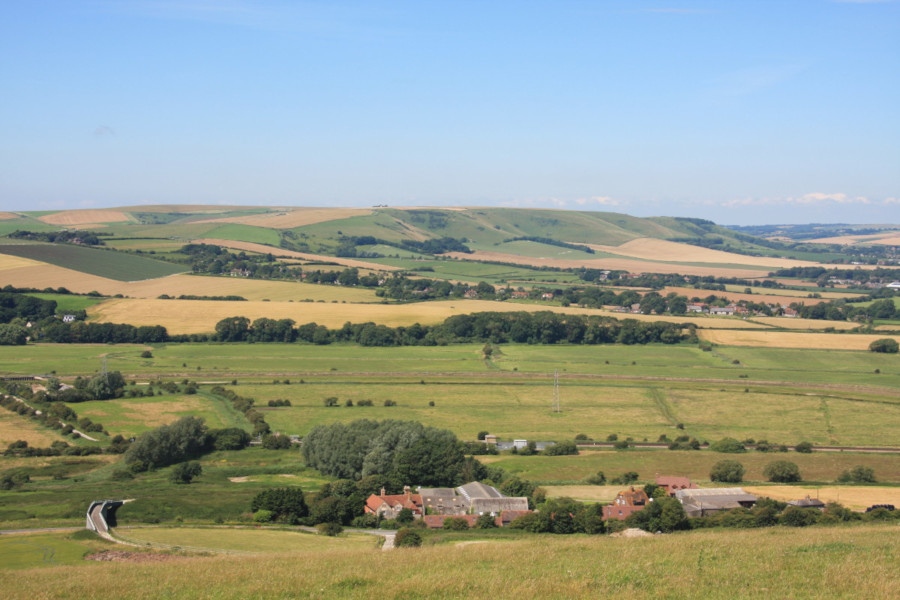 Southease and towards Alfriston
Amberley to Buriton 27-28 April 2013
Day 7 27 April 2013 Amberley to Cocking
On the train to Amberley again, but this time walking west towards Cocking.
Good weather again and some lovely scenery. We stayed the night at The Bluebell in Cocking (sadly now closed), where we had an excellent supper and probably the best breakfast ever.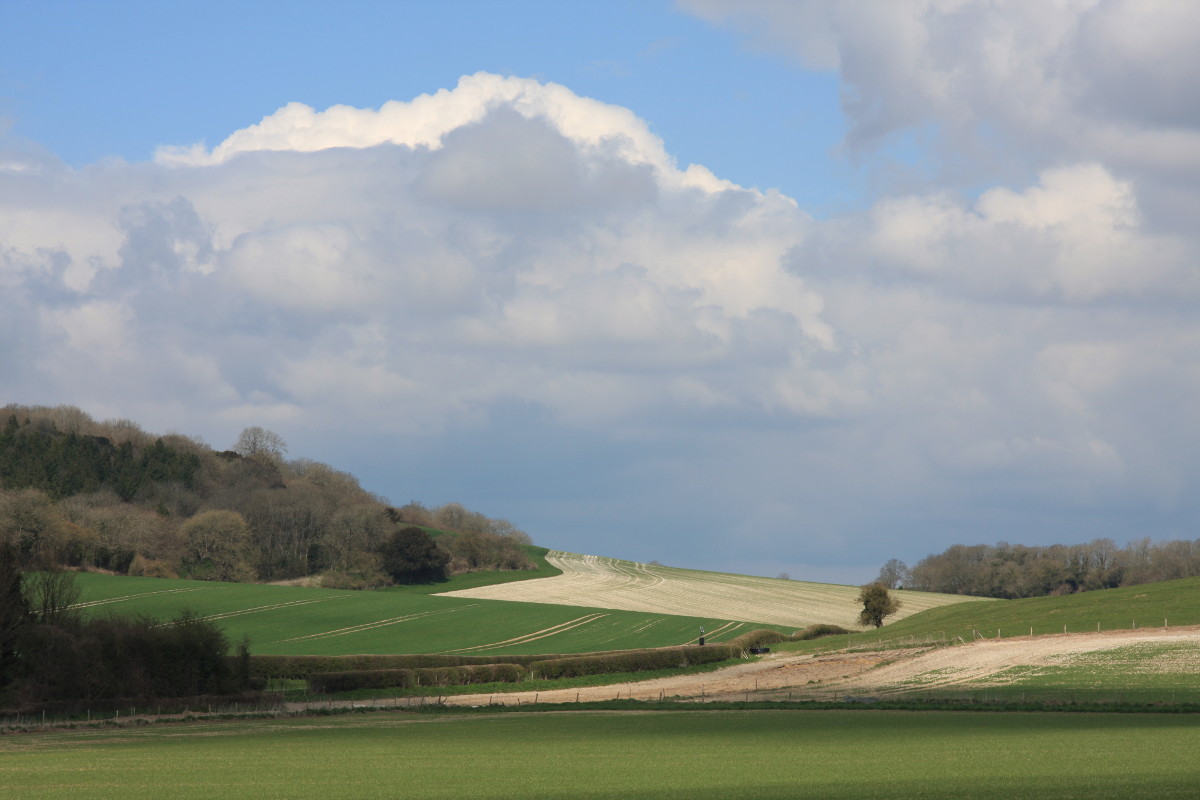 Beautiful Scenery
Day 8 28 April 2013 Cocking to Buriton
Some steep paths near Beacon Hill, before eventually leaving the South Downs Way and dropping down into Buriton for a pub supper.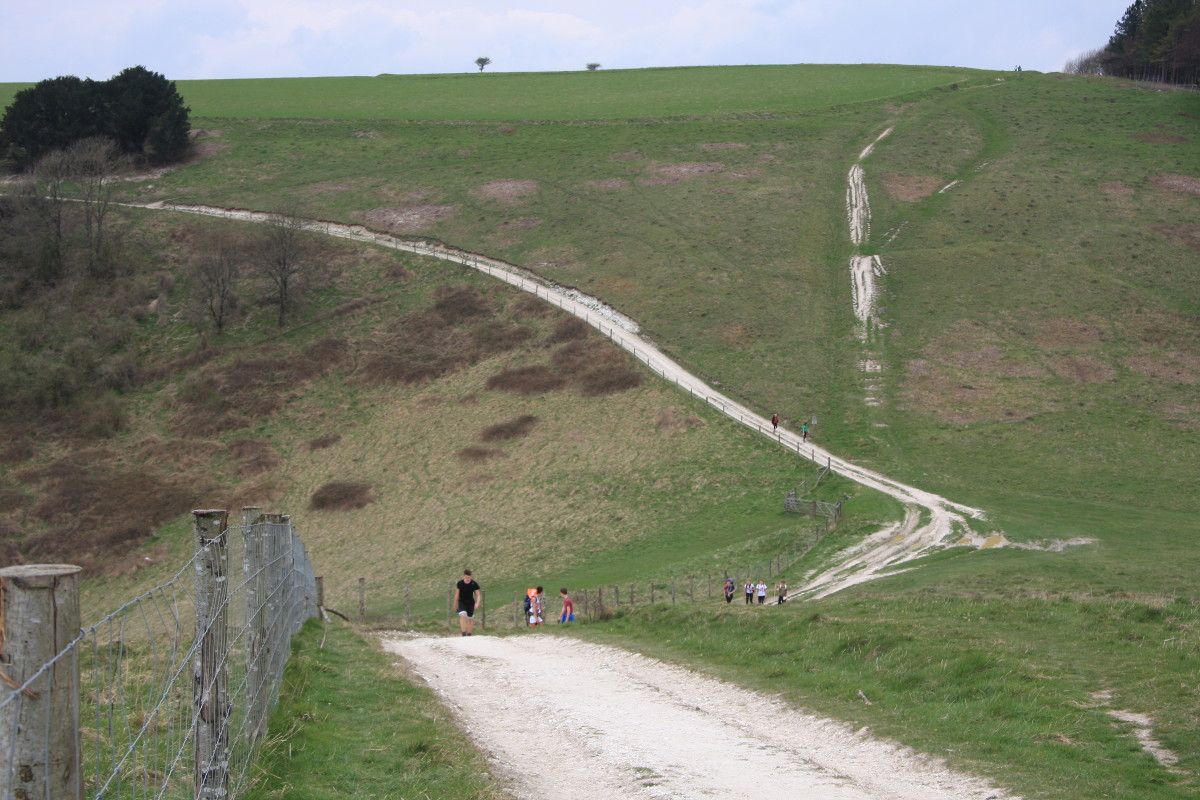 Near Beacon Hill
The journey home involved a short taxi ride to Petersfield , then a London bound train.
Buriton to Winchester 31 Aug – 1 Sept 2013
Day 9 31 August 2013 Buriton to Exton
Our last weekend and we caught the train to Petersfield and then a short taxi ride to rejoin the South Downs Way just above Buriton.
It was another lovely day and we were soon climbing up Butser Hill.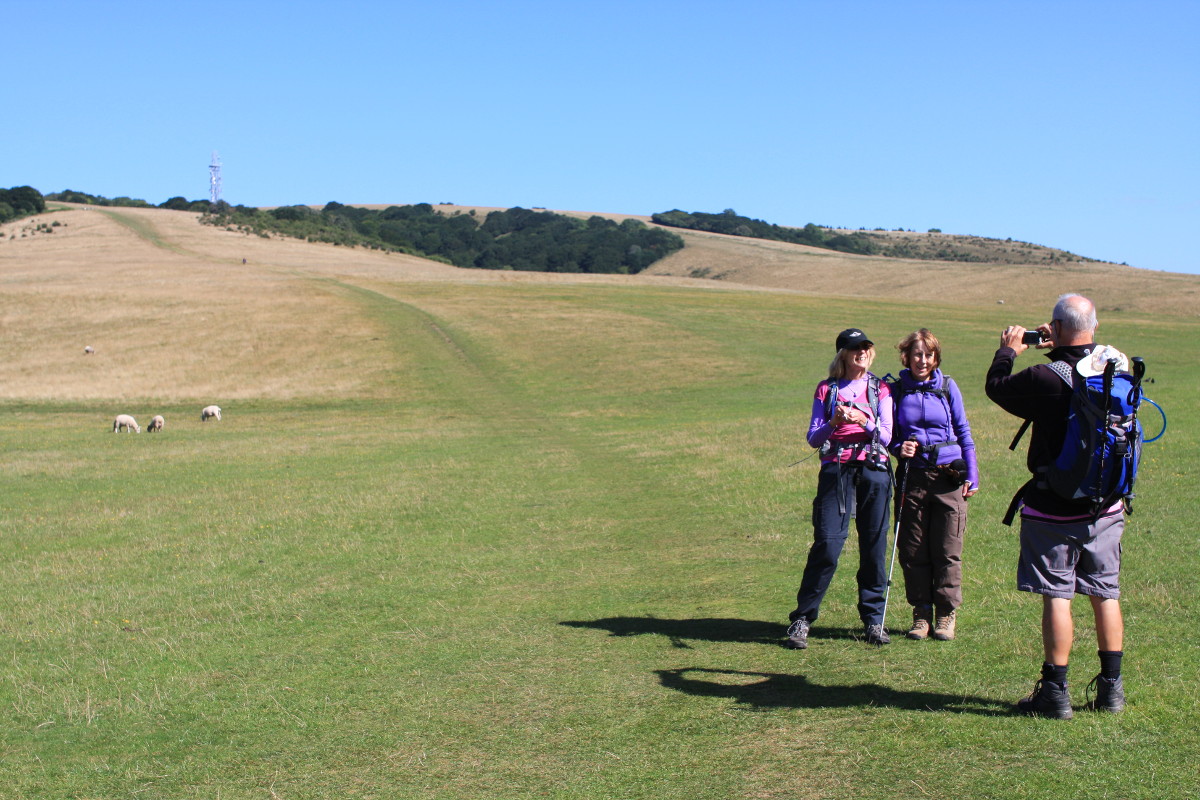 Butser Hill
We stayed the night at Corhampton Lane Farm, made very welcome by Suzanne who kindly drove us down to The Shoe Inn at Exton for supper, and picked us up later. It was an enlightening experience staying on a working farm and the Bed & Breakfast was of a very high standard. To quote a previous visitor: in one word: 'fantastic'; in two words 'bloody fantastic'.
Day 10 1 September 2013 Exton to Winchester
The next day we set off again with packed lunches, stopping en-route at The Milburys for a pint or two, and peered down their very deep well. We then trudged on past Old Winchester Hill before descending into Winchester.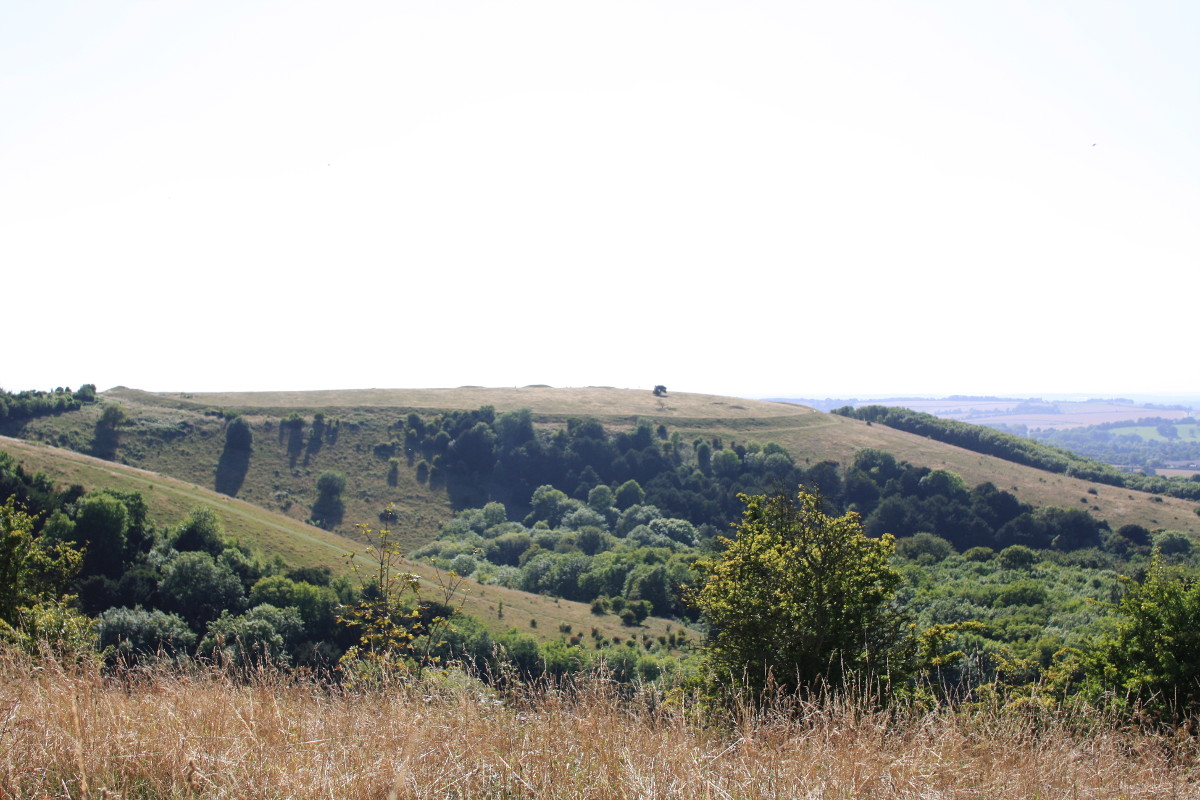 Old Winchester Hill
Finally, a pub supper at The Vine in Winchester, having not been allowed into the Cathedral, before heading back home by train towards London.
Finale
We we're all done and thinking about a new challenge for the next year – which turned out to be Walking the Ridgeway
Happy Walking!
Martin